1
12
2016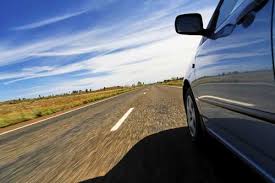 Our lives often resemble the congestion of a busy highway—people passing by us at lightning speed, while we tightly grip the steering wheel of life trying to make sure we stay in our lane and don't crash into anyone on our way to our intended destination. Life is busy; but God put us on this earth for the purpose of touching people and sharing with them the good news of the Gospel, on our way to Heaven, our final destination. So how do we do that gracefully, without it feeling like we are just crashing into people as we fly through life? By merging into their lane of life with the use of some good on-ramps. Each of us needs to be building relationships, or on-ramps, into the lives of others. The following tips may equip you in this process.
1. Know your destination and build on-ramps that enable you to reach that destination.
Did you know that the famous London Bridge is actually in Arizona and goes absolutely nowhere? In 1968, Robert McCulloch purchased the bridge for $2.5 million. Each brick was individually coded, and then the bridge was transported to Lake Havasu City, Arizona, where it was meticulously reconstructed brick by brick at a further cost of $7 million. Next, a channel was constructed underneath the bridge in order for water to actually flow under it. The irony is that the London Bridge is right next to the Colorado River, which at this particular spot has no bridge going over it, even though there is a legitimate need for one: the nearest crossing points for the residents of Lake Havasu City are either thirty miles to the north or twenty five miles to the south. Great effort and expense were put into building a bridge that really goes nowhere.
Many of the relationships we have built are just like the London Bridge: they don't go anywhere, because we have not determined our final destination. Our initial destination for any relationship is a clear presentation of the Gospel. But our final destination is leading that person to Christ, discipling him, and then having him join us in helping others come to know Christ.
To build good on-ramps, know where your relationships are designed to end, and build with that destination in mind.
2. On-ramps do not build themselves.
On-ramps, or relationships, are not built through a particular program of the church. They are built by people. Building on-ramps will require initiative and hard word on YOUR part.
That initiative takes the form of a one-on-one, which means much more than just talking to people. I like to define a one-on-one as the process by which we stop our world to connect to someone else's—and that's where the hard work comes in.
3. Investment and time are the concrete that makes strong, healthy on-ramps.
On-ramps are strengthened and made healthy through investment, which typically requires both your time and your dime. That means that initially, in order to strengthen that relationship, you may have to drive farther than the one you're investing in, pay more than he does, and sacrifice more than he does.
But the relationship will begin to grow even stronger and healthier when there is a two-way investment. A practical way you can encourage this is to allow your new friend to begin to invest in you. Ask him to teach you things that he does really well. If he is a grill master, let him teach you how to grill better. If he is good at a particular hobby, allow him to show you his skill. The things that people are good at are often the things they love. When we like what they love, relationships deepen.
In addition to investment, good relationships are strengthened through time. Although the Exchange Bible Study is designed for just four weeks, it may take you a number of weeks, even months, to build a relationship to the place that enables you to start that four-week study. We must abandon the idea that gospel Bible studies will only require four weeks of my life. It will require a significant investment of time to build the relationship for the sake of the gospel and to continue the relationship for discipleship after the person has accepted Christ.
4. Create an on-ramp that has a family environment to it.
Hosting a new friend in your home, a friend who feels like not much more than a stranger, is much different than hosting a family member you love and enjoy. It feels awkward at first, and that's normal, but our goal is to do some things to intentionally overcome that awkwardness and make our new friend feel like family. Maybe these practical suggestions will help you.
First, use your homes and specifically your dining room table. Christ often gathered with the lost and His disciples around a meal. The act of gathering around a table in your home for a meal creates conversation, which in turn builds relationships. Perhaps your dining room table has become an unofficial storage spot, forcing your family to gather in front of the television for meals. Could I encourage you to clear off that table, prepare a simple meal, and invite your guests to be part of your family around the table?
Second, include the whole family in your pursuit of relationships with the unsaved. Your spouse and children can be part of the team that helps you reach people. The multiple personalities and interests within your home may be the tools necessary to make the people around you connect. If you are going to reach people for the gospel and then disciple them well, they are going to need to start doing life with you AND your family.
Third, invite people to join you for the normal things of life, not just the big events or the special services at church. Backyard BBQ's, a walk around the neighborhood, watching the big sports game in your home, attending a concert or movie together—all of those normal things of life are not quite so daunting to an unbeliever; and you may find that they prove to be a good method for building on-ramps into people's lives.
When you were learning to drive, you spent a lot of time on back country roads far from the intense traffic. At some point, you had to leave the country roads, drive down an on-ramp, and enter into the traffic on the freeway. Your knuckles were white, and fear gripped your heart (and probably your passengers' hearts as well). Over time, though, the fear went away; and driving on and off the freeway just became part of driving. In a similar way, don't be surprised if building on-ramps and then merging into the lives of people frightens you. Your first steps in building those on-ramps may feel awkward; but over time, it will just become part of living. When merging your life into the lives of others becomes normal for you, you will be accomplishing the purpose God has for you here on earth.
Categories :
Church Philosophy
,
Congregational Helps
,
Discipleship
,
Ministry Helps